Home Improvement Specialists in Redditch
There are many advantages attached to investing in new windows, doors and conservatories for your home, with the benefits including not only being able to improve your comfort and energy-efficiency levels but being able to add more value to your property too. If you ever do find yourself selling your home, you can potentially receive a sizeable return on your investment after upgrading your windows, doors and conservatories. Buying new windows, doors and conservatories can also make your home more secure thanks to the wide range of more robust, burglar-proof features and facilities available on the market today. Features such as multi-point locks are highly sought-after and can make it significantly harder for would-be burglars to gain access to your property.
The benefits of new windows, doors and conservatories in Redditch
 Today's windows, doors and conservatories are generally sealed much better than those available previously, which means cold drafts can be eliminated much more successfully. Modern products have a much greater ability to trap heat inside your home during the colder months, heightening energy-efficiency and allowing you to cut down your energy bills. You can also reduce the amount of noise permitted to enter your home with modern solutions like triple-glazed windows, keeping noise from traffic and other sources outside where it belongs. Another positive aspect of new windows, doors and conservatories is that they are easier to maintain and clean, with areas that were once tough to access being far more reachable.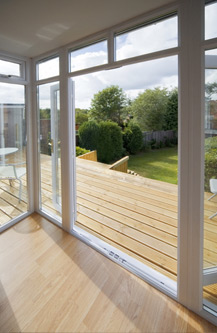 A wealth of home improvement options
 At Pinnacle Home Improvements, we are able to offer a wide range of windows to meet a host of needs, in various shapes and sizes. These include single and double hung sash windows, stained glass and decorative windows, skylight and roofing windows, horizontal sliding windows and much more. We can help you get the best type of window for your building and can also offer a guarantee on your new windows as well as repairs, ensuring your solution meets all British standards. Talk to us today if you require the perfect Redditch window or windows.
Outstanding comfort
 We offer outstanding door replacement, fitting and repair services and are always able to direct you to the best solution for your home and business premises. There are many different frame sizes and finishes to choose from, and we can provide doors with internal glazing, multi-chambered doors, doors with 2 reverse hooks, white and foil finishes, adjustable hinges, weather-seals, steel reinforcement and more. Our doors boast A-rated energy efficiency and we can cater for the full spectrum of tastes and requirements.
A range of conservatory options
 We can also provide you with a Redditch conservatory that compliments your home perfectly and provides you with valuable extra space, giving you a solution that delivers comfort throughout the year.
 We can offer gable ended, lean-to, Victorian, P-Shaped and Edwardian conservatories that are brilliantly-protected from the elements.
Contact us
 Talk to us today if you are interested in investing in exceptional new windows, doors and conservatories in Redditch. You can reach us by using the contact form on our site or calling 01527 522019. You can also follow us on Facebook, Twitter and Google +.